NORLAND CALCIUM IRON AND ZINC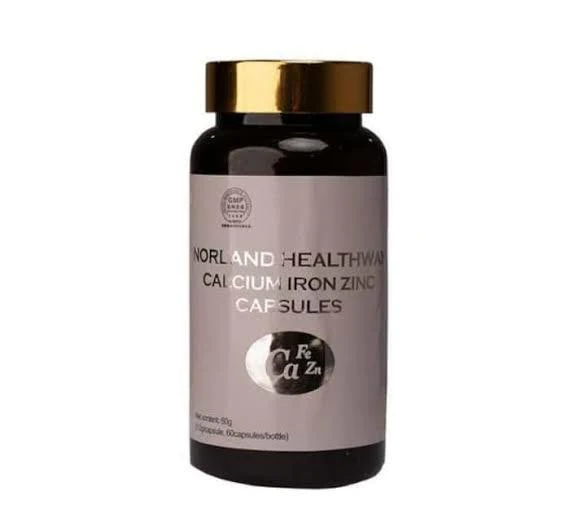 CALCIUM IRON AND ZINC
are essential micronutrient for human body. growth , maintenance for physical activity, work capacity and resistance to use infection

Now let's know the vital roles of these micronutrients in human body.

CALCIUM
Calcium is one of the minerals that is essential in the human body and is a major component of teeth and bone.
Click to read more about calcium

The teeth and bones stores calcium for the rest of the body. When the quantity of calcium in the body is low it affect the bone and teeth function. Eg Arthritis, Tooth pain ( unable to chew).

So if the quantity of calcium in the body is low, it leads to –
Osteoporosis
Bone loss
And rib cracking.

ZINC:
Zinc is a nutrient that supports growth during childhood and immune system

It support the body to make protein and DNA,.
It helps in wound healing and in maintaining healthy skin.
It have anti-oxidant properties:
Good in treatment of diarrhea in infant .
It help to reduce oxidative stress eg. Diabetes, High blood pressure .
It help in age-related macular degeneration by preventing cell damage and retina (vision loss)
It helps in bone formation health and prevent osteoporosis.

Zinc may help shorten the duration of the common cold( 75mg as daily dose)
It improve memory and learning.
During pregnancy and breast feeding intake of zinc is necessary because babies and infants up to 6 months obtain zinc through breast milk.

ZINC DEFICIENCY.

Zinc deficiency can increase the risk of different health issues like
1. Delay in growth of a child .
2 Loss of appetite
3 Change in taste
4. High risk of infection eg Pneumonia.
5. Fertility problem and delay in sexual development
6. Diarrhea
7. Problem with wound healing.
8. Eye and skin lessions

ZINC TOXICITY
Too much zinc in the body may lead to toxicity, which could be harmful to sperm in men and cause
Nausea and vomiting
Abdominal pain
Headache
Diarrhea
lows copper level ,change in iron function and reduce immune function in human body.

Remember men needs zinc because during ejaculation they loos zinc


IRON
Iron is needed in every cell of the human body and have several vital functions like transferring oxygen to the tissues from the lungs as a major component of the hemoglobin protein, acting as a transport medium for electrons within the cell in the form of cytochromes and facilitating oxygen enzyme reaction in various ways.
Also, It is an essential element for blood production. About 70 percent of human body's iron is found in red blood cells called hemoglobin and in muscle cells called myoglobin. Hemoglobin is essential for transferring oxygen into the blood from lungs to the tissues while Myoglobin in the muscle cells accepts , stores , transport and release oxygen.
Six percent of body Iron is a component of certain proteins, essential for respiration and energy metabolism as a component of enzymes involved in the synthesis of collagen and some neurotransmitters.
In addition, Iron is needed for proper immune function.
It paly a vital role in metabolism as a component of some protein and enzymes.

IRON REQUIREMENT
Minimum daily requirement of iron for adult is 1.8mg

DEFICIENCY
When iron intake is low, quantities stored in the body becomes depleted and it decrease hemoglobin levels .

Good thing is that NORLAND wisdom of health with high class technology come out with the combination of these micronutrients that cures and prevent any health challenge mentioned above and provided the accurate needed quantity in human body daily.

NORLAND HEALTHWAY CALCIUM IRON ZINC. FUNCTIONS AS FOLLOWS:-

A. Rich in vitamin D which helps the body absorb calcium
B, Prevents bone loss and reduces the risk of osteoporosis
C, For building and keeping strong bone
D, Promotes recovery from bone injury
E, It promotes fertility
F, It is an anti inflammatory product
G, Beneficial for women going through menopause
F, Good for treating arthritis
For more details
Call: +234(0)8036030232
WhatsApp: +234(0)8036030232
Disclaimer:

Content on this site is for reference purposes and is not intended to substitute for advice given by a physician, pharmacist, or other licensed health-care professional. You should not use this information as self-diagnosis or for treating a health problem or disease. Contact your health-care provider immediately if you suspect that you have a medical problem. Information and statements regarding dietary supplements have not been evaluated by the Food and Drug Administration and are not intended to diagnose, treat, cure, or prevent any disease or health condition. Poundsbusiness assumes no liability for inaccuracies or misstatements about products.